Archived News
June, 26th 2011
---
Just a quick update with some new longplays starting at
#294
of our videos list. As such there've been some additions to our
done
list, however these wanted games still remain the same:
Zoids
Infiltrator
They Stole A Million
Championship Baseball
Deactivators
Gunship
The Sentinel
Have fun :)
Reinhard
May, 2nd 2011
---
In the meantime people have submitted the missing longplays. As I usually do some work in advance - check out the extensive preview of our "
DONE
" list - this update is bigger too starting at
#284
of our videos list. The year 1985 is almost finished with Elite as the last important title already being in the works. And up to a few titles I the whole year 1986 is saved to my harddisk.
In case you feel compelled to contribute to this project, check out this list of wanted games:
Zoids
Infiltrator
They Stole A Million
Championship Baseball
Deactivators
Gunship
The Sentinel
Have fun :)
Reinhard
February, 3rd 2010
---
Hi there, things are moving slowly again at the moment. Not because I forgot about our project, I'm rather waiting for two more videos to be submitted and have no influence on when this might happen. As soon as I get my hands on them there'll be another update but as usual I'm gonna stay away from promising any release dates. Thus for now we only have
three new videos
: "Little Computer People", "Nexus" und "Fist 2" starting at #281.
I've also recorded some C64 games for another longplay edition. People should be familiar with my
Last Ninja Longplay
by now but I've also replayed
The Great Giana Sisters
,
Katakis
and
Turrican 1+2
.
This time's look beyond my nose resulted in these console longplays:
Metroid
,
Metroid 2
,
Legend Of Zelda
and
Super Castlevania 4
.
Have fun :)
Reinhard
November, 3rd 2010
---
I've been making some headway lately. Since I finally got a regular job I'm short on time to work on this project. Yet starting at entry 276 five new videos have been added to our
Gamevideoarchive
.
Additionally some longplays of 1984 were newly encoded and added to entry 200. Besides 8 new encoded/recorded longplays we have two new entries. Andor's contribution
The Dam Busters
completes year 1984 quite nicely, I've also recorded Stealth myself all of which to be found
here
.
The original series
has been updated with Saucer Attack. There's also some new entries to our
done/wanted
list.
Have fun :)
Reinhard
September, 21st, 2010
---
Just a quick update adding 5 new videos to the
Gamevideoarchive
and the
done and wanted list
.
August, 24th, 2010
---
This update marks the definite end of the classic series. 300 is a round lot and worthy of it. Next issue, I'm about to cancel the Gamevideoarchive as planned originally. Honestly, I've reached a point where I'm testing my limits between what I want and what I can do. I've reached a level where frustration outweighs fun. My basic idea was to include all relevant C64 games to have a representative overview of their part of computer games history. The problem is that I'm missing lots of games be it simulations, RPGs or strategy games none of which I get nor like. At some point I just can't be bothered to deal with this crap anymore.
The fact remains, there's too few contributors to reach this goal. If only a fourth of the people that assured me of their support had made good on their promises this project would be in a much better shape than today. Actually I've been waiting for three people to submit Elite since day one of the Gamevideoarchive. Now we're stuck in the year 1985 because Elite is still missing and I don't think I'll live to see the day. I'm also sick and tired of begging and chasing after someone. It gets ridiculous after a while. I've now realized I've been far too optimistic and went out on a limb. Some things only last so long and the C64-Longplay/Gamevideoarchive-Project is passed it's due date.
I've spent the last days pondering whether to release the last submitted longplays and to move all my own unreleased stuff to /dev/null, just to save me the effort. But I've done too much work over the last year and I don't want it to be a total waste. Thus our current break will last until June. Anything up to this point will be added to the archive and then this project will be shut down for good. It's about time to draw a line.
Annoyed,
Reinhard
July, 2nd 2010
---
I've finally managed sorting the original longplay series which is slowly about to be completed. I'd announced this ages ago but I never could make myself sort and polish 300 longplays. I hope this clears the fog a bit and people understand about the different series. The original series from 2003–2006 (also with new sound codecs to make them run on hopefully any system) and the current one from 2006–2010 have been merged into one and ordered by number. The Gamevideoarchive remains the same, thus there's only two sets of series left. Some longplays missing from the list will be added at a later date. While my focus remains on the Gamevideoarchive, I've still recorded some titles I'm interested in for the longplay series since they don't fit the archive's profile.
Since the replacement of the longplay series by the Gamevideoarchive still poses some questions I'm gonna try explain the difference. When I started the project in 2002 I had no idea what I was doing let alone what would come of it. A random outburst of nostalgia turned into a fan project with momentum of it's own. At some point in 2007 it occured to me that sorting the videos by any criteria to have some kind of central theme might be a good idea. As a mere fan project the longplay series is still adaequate.
But I wondered whether it would make sense to turn it into a project on C64 computer games history. How to make an archive that would demonstrate the evolution of C64 computer games to interested outsiders? What games would one choose to present this system? Apart from a failed attempt at TV, 2007 marks the beginning of the archive which is comprised of a - by no means complete - list of the most important, interesting, bizarre or technologically impressive games in chronological order.
Some longplays fit this description which is why they are missing from the original series and will be added to the archive sooner or later cause having two versions of a game would be redundant. So if you're a collector you could delete all old longplays from your disk and download both series to get the complete batch of videos available.
Which brings me to the hiatus announced in our last update in the course of which I plan to collect and record some histories of my own to see what is still doable. After nearly seven years of dedicating almost all my spare time to this project I also need some space from all of this. Every now and then I'll release 1-2 titles to stop the project from shutting down and I'll also update the
done/to-do
list so any contributors don't waste their time on games already covered.
Our
to-do list
is losely based on Lemon 64 and features only important titles wanted for the Gamevideoarchive but should not be considered a wish list. We simply don't have the manpower to fulfill each request ourselves. Still, feel free to submit unlisted games after browsing our
updated tutorial
. Anything remotely popular is marked for the Gamevideoarchive, anything else will be added to the longplay series.
So long,
Reinhard
April, 2nd 2010
---
This will be our last update for quite some time. I'm currently all out of anything including motivation cause I've pretty much done all games I'm interested myself. I'd also planned to finish year 1985 with number 300 but one problem remains:
Elite
. I've got no clue whatsoever about how to play this game and I'm not very interested to invest any time in it cause honestly, I think it's boring. So there's another reason why updating this page takes so long.
However, what kind of a representative cross section of C64 gaming history would lack one of the most important games? That's why I'm asking anyone here to contribute a longplay of it so I can continue this project. Of course I'm aware that Elite is no game to be played through in a hurry nor to offer a complete video of. However, our current update comes with a video of
The Bard's Tale
which first and foremost is a montage of important scenes of the game so outsiders can get an idea of what the game is about:
This would be a perfect way to do
Elite
. Showing the game mechanics and 2-3 missions would be sufficent. Of course I'm aware even this would be a major undertaking but if you feel up to it, please send me a mail. Of course I'll do the editing and stuff. Same goes for
M.U.L.E.
whereas in this case there should be no use of save states. Having too many random events in an economics simulation would look weird fast.
Since I'm always a little ahead of schedule with my work on the archive I've included the so far unreleased videos in our current update starting with
#257
. In case you want to submit your own history files, please check the list first to verify your game isn't alredy there. Some videos already on my harddisk will later be added to the longplay series instead of the archive. Games like
Strider
,
Running Man
or
Mercs
- to name a few - will be skipped entirely. There's simply no use in adding games that already sucked on day one of their release.
I hope to be able to really dig into work on the archive again in June 2011. To keep this project alive in the meantime, I'll be adding a couple of videos from my stash every other month or so. This will of course include updated lists so noone starts working on longplays already done.
Issue #2: the old longplay series. I've been meaning to finish it for ages. But since now and then new videos turn up that are unsuitable for our archive, I'll keep adding those to the old series which means no longplay will get lost. Since maintining two series is on the other hand quite time consuming (and I also intend to redo some of the longplays for better encoding quality) it may take quite some time before the old series will be finalised and uploaded to archive.org as well. In case you haven't noticed the original longplay series is already online:
1-30
,
31-60
,
61-90
,
91-120
,
121–140
.
And don't worry, even if I do not continue working on the project next year, I'm gonna release all submitted longplays before closing down this project for good. In closing I'd like to get those of you who like to think out of the box interested in my longplays for other systems:
Super Mario Bros. 3 (NES)
,
R-Type 3 (SNES)
und
Super Street Fighter 2 (Arcade)
.
Greetings,
Reinhard
January, 11th 2010
---
Hi there,
here's an update on the current state of our project: the last two submissions were from years 1983/84. I'd like to stress again that I've completed years 1982-84 of our Gamevideoarchive so I don't need any more longplays of that period. To wrap up the old longplay series I'm gonna release all the stuff left on my hdd. Most of which is pretty good material so it's gonna be added to the gamevideoarchive instead which is one of the reasons why it's not online yet.
Among those are Labyrinth by Flexman, Platoon by Mingray and Head Over Heels by Retroplay, to name a few. So guys, you are not forgotten, I'm simply waiting for the corresponding year's turn. Sorry to keep you waiting but adding those longplays also to the old series would be redundant.
Come June the year 1985 of the gamevideoarchive will be completed with these longplays coming up next:
Gribblys DayOut (Tayo)
The Human Race (Reinhard K.)
The Eidolon (Moon)
Frankie Goes To Hollywood (Supermaan)
Spy Vs.Spy II (Reinhard K.)
Crazy Comets (Reinhard K.)
Commando (Reinhard K.)
Winter Games (Reinhard K. & Arthur Thamm)
which represent a comprehensive overview of that year. But if you think there's something missing feel free to submit it (as explained in our tutorial
Tutorial
) before June cause beyond that every submission for 1985 will be ignored ;)
Our current update of 13 longplays starts with
# 245
and we've also got some on the Ghouls 'n' Ghosts 'n' Goblins franchise for those who also like to take a look at other systems:
Ghosts 'n 'Goblins (Arcade)
,
Ghouls 'n' Ghosts (Arcade)
,
Super Ghouls 'n' Ghosts (SNES)
.
Greetings,
Monty
December 4th, 2009
---
After what seems like yet another long while there's some nice things to report. First and foremost: I've finally finished my training as a geriatric nurse - I know, about time at age 33 - and secondly I've been writing articles for the new german game magazine "Return". Since I've grown up with 8 bit machines and did get my hands on a lot of games while working on this project, covering the games section seemed like the natural thing to do.
In the first issue I'm reviewing Space Taxi and Lazy Jones. The following one will be about Spy vs. Spy and Bruce Lee as well as starting off my special on the complete NES-Megaman-Series which includes side notes and background info on the development process. To make it perfectly clear: this is a print magazine, no PDF file but something physical and to skim through. You can order it from the official site over at
RETURN MAGAZINES
.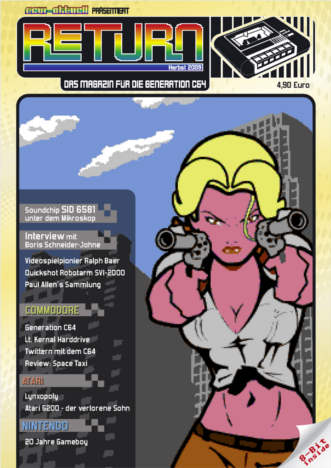 Now back to our current update: I'd originally planned not to release too many videos at once. However, since my harddrive is filled to the brim I'm releasing 14 instead of the planned 6 videos. Since there's a lot more stored on it, you might see our next update sooner than usual.
And now I'm requesting help from our skilled players:
Since my strong suit certainly isn't Adventures/RPGs and I can't finish the year 1985 without
Mercenary
or
Elite
, I'd need someone skilled at these games to do those longplays for me. I know, Elite surely amounts to being a mega project but playing the game through in it's entirety isn't necessary. Unfortunately our Bard's Tale-Longplay isn't available yet so I can't demonstrate what I have it mind. But this would be the way to go: record only the elemantary scenes and add an audio commentary to explain what happens. This way, the Elite longplay would span roughly 1 1/2 hours.
But like I said, I'm not up to it. I've never played Elite and my english isn't good enough. Moon is busy with real life so I'm happy he's found the time updating the page and translating this news for me. So, in case you're interested in any of those games please contact me by mail. And now, off you go to
watch those videos
starting at #231.
Nuff said,
Reinhard
August 19th, 2009
---
Returning from yet another dry spell we're able to present quite a bunch of longplays for our Gamevideoarchive. Apart from that our last mini update had some newly compressed or even played versions of older games which are downloadable by doing a
right-click > save target as
on
(HQ)
behind any game's title. And in case you're wondering if they've been worth the effort check out these streams:
Space Taxi
,
Below The Root
,
Spelunker
and
Let me stress that again: not only did I manage to squeeze out better audio and video quality but some of the new recordings have more fluent gameplay than their original counterparts. So
download em
, they're free! Of course the old versions are still available for download.
Despite my previous efforts I'd also like to officially announce that I'm giving up on regular or frequent updates of this project. I simply lack the time to sit in front of my PC for hours on end and I'm also trying to include all important games of a certain year before starting the next. So whatever's coming up next depends on how fast I'm getting there and what longplays are being submitted to us. Some longplays on my HDD are already scheduled for later numbers so they may take a while before getting online. So if anyone wonders why their longplay isn't online yet this may very well be the reason. I'm also trying to mix genres a little and I'm pretty short on anything but simple arcade games.
Apart from that, some games on our
wanted list
are already done or replaced by new titles we'd like to see submitted. The only rule of thumb here is that I don't need games that already sucked at the time of their release (like Strider, Game Over or Mercs). Of course games of any year can be submitted but will take longer to release due to our numbering scheme. Currently I'm waiting for 2-3 announced longplays to close the longplay series for good in december. Anything not submitted by that time just won't make it. I might transfer all longplays to archive.org eventually, however our focus is on the Gamevideoarchive.
BTW, in case you're interested in more than C64 longplays, check out arcade versions of
R-Type
and
R-Type 2
and visit our affiliate sites
Recorded Amiga Games
und
Longplays.net
.
Greetings, Reinhard
June 18th, 2009
---
Returning from a long break (I'm currently preparing for final exams) and the original longplay series we're presenting remakes of 50 important games I've re-encoded as an comprehensive overview of the first 3 years of C64 games. Even if you've already seen our previous 199 longplays we recommend you to have look at their new counterparts starting with entries
1-35
. For one, their quality has improved and secondly some of them were even played anew. Newbies to C64 games will get a solid foundation concerning important games from 1982-84 to use as a starting point to our running series.
Once those 50 remakes are done we'll continue our regular archive adding new entries from the year 1985 which is already quite covered. However, I won't get embarassed again by giving any definitve release dates I won't be able to keep anyway so have fun with those remakes. Also check out the links Moon added to a game's details page over at Lemon 64. He also removed the target code from all links so you can decide whether you want to open them in a new browser window (middle-click or CTRL-left-click) or not.
Assuming all goes well, I'll be done with education in September so I'll be able to devote more time to this project. In case you're interested check out my
NES-MegaMan longplay
I've done a while ago.
Greetings, Reinhard
March, 30th 2009
---
Again it's been a while since our last update, I'm still quite busy with school. On top of that I'm gonna be hosting a cut together of Gamevideoarchive 200-204 which is also time consuming and makes for no new longplays this time. My apologies to anyone admitting histories lately, your entries will be treated preferentially. Numbers 200-204 should be done in 4-5 weeks and then it's back to longplays.
Since there's been a lot of requests for our original longplay series I've partially upload fixed versions of them. After all some had to suffer from extensive codec experiments back from when I had no clue about video encoding. I'm not really satisfied with their overall quality but I still think it'd be a shame if the old series were lost. However, I'm not very motivated to add another table for them so I'm linking to their respective sections over at Archive.org: Longplays TOS
1-30
,
31-60
,
61-90
,
91-120
,
121-140
.
BTW, I've realized our old longplay of Master Of The Lamps is useless since it's showing the bad ending. So if anyone feels compelled to redo it with the good ending, feel free to do so. This also applies to requests made for certain games in our guestbook. We do take notice of them but we're swamped with stuff we like to see ourselves (Moon e.g. is working on Koronis Rift and Ultima IV) so we can't do them too. I just want to make it clear that you're not being ignored but I'm afraid you gotta have to wait for someone else to do them. Or have a try for yourself, as explained in our
tutorial
.
On another note, I've recently been hired to write a game review colum for the german C64 mag
Cevi Aktuell
and I've finished longplays of the console versions of the Contra series. In case you're interested check out
Contra 1-3
and
Contra-Hardcorps
.
Greetings, yours truly (stressed out)
Monty
December, 31st 2008
---
Well,
having survived X-mas I can spend my well deserved holidays getting back to work on our C64 project. There's finally time to release the promised
Longplay update
. Originally this was planned to be the final one, but since I do have more histories in stock than expected I'm gonna release another batch in February.
There's been some confusion on this so take it straight from the horses mouth: me shutting down the longplay project simply means that it'll be replaced by it's official successor, the
C64-Gamevideoarchive
. However, since we're finally through with 1982-84, I don't need any more histories from these years.
Here's a little
preview
of what's coming up next. First however I'd like to fill in the
enumeration gaps
which will take me some time. I wanna be at least half way through this list before releasing anything from 1986. Of course if anyone wants to contribute some longplays I'd be very grateful. In case you wanna try it, please have a look at our
tutorial
. As usual this list isn't set in stone so you can submit other games too, as long as it's not the 100th clone of Pacman or a simple text adventure. Also games done with game creator software are of no interest.
While I'm at it, we've also added some
new videos
to the Gamevideoarchive starting with #194.
Have fun,
Monty
October, 29th 2008
---
Hiya,
again it's been quite a while since our last update. This isn't due to a lack of interest on my part but because I'm currently studying to join the workforce as a geriatric nurse :)
In case you're wondering bout our rate of release: I'm still working on some games from 1984 that are a bit tougher to solve than expected so I slipped in a few of 1985. Apart from those I'm already finished with all videos up to number 220, so as soon as I'm through with 1984 there'll be a lot of updates. Till then check out our
new entries
starting with #161 or do submit histories for 1985. The more we get the better ;)
However, please do check this list of
already submitted games
as well as our list of
wanted games
first. We don't have a list for 1986 up yet since it'll takes us some time to get there, but if you want to submit something for this year please mail me about it.
Last but not least I'd like to inform you about our webmaster Moon having started his own page on
The Castles of Doctor Creep
featuring walkthroughs, maps and longplays. In case you're fan of this great classic you should definitely take a look at
Doctor Creep Real Estate
.
Have fun,
Monty
Juli, 2nd 2008
---
Hiya,
finally we've gone through our dry spell and updated this page. The promised final update to our longplay section isn't here yet but we've got a lot of new entries to our Gamevideoarchive including an almost completed year 1984. I'm already working on videos from 1985 which will be online as soon as I'm done with 1984 which includes the following unfinished games:
BaggitMan (already done, I'm just too lazy to edit audio)
Rally Speedway (same as above g* )
Agent USA (working on it)
Encounter (working on it)
Pitstop 2
On-Court Tennis
Firequest
HES Games
All other longplays of 1984 are already up and will sum up that years with those games listed above. In case you think silly Monty has overlooked an important game of that year,
be my guest
;) Feel free to add any game of 1984 except the likes of "Jungle Story", "Eskimo Eddie" or yet another Pacman clone. You'll have time till our next update for Gamevideoarchive scheduled for October. Admissions beyond this date will be discarded since all videos are enumerated. BTW, I do know Summer Games is missing, I'm gonna add it with part II in 1985.
Of course you can already submit videos for 1985 as well. The more we get the better ;) However, please do check this list of
already submitted games
as well as our list of
wanted games
first. We don't have a list for 1986 up yet since it'll takes us some time to get there, but if you want to submit something for this year please mail me about it.
Have fun,
Monty
March, 25th 2008
---
Happy Easter!
Those of you who do speak german I wanna point to an
interview
, André Eymann of Atari.Spielanleitungen.de did with me. Thanks again for the opportunity and the nice chat.
You may have noticed the few longplay updates over the past 6 or so months. This is because I've spent most of my time working on the Gamevideo Archive but also because I'm running out of material. So let me cut to the chase: June this year marks the end of the Longplay project when it will be replaced by the Gamevideo Archive which has become an
official part of this page
as of this update.
Over the past 5 years I've done all games I've been personally interested in. The majority of recent updates were only done to keep the project going but honestly haven't been too much fun. And if this has to become some really tedious work at times I really wanna make it count for something outside the realm of fandom. This is one of the reasons why I spent more time working on the Gamevideo Archive than on Longplays. Of course it's basically the same kind of work but it offers the opportunity to build a structured video archive to embrace the history of C64 computer games. The videos are now ordered by year of release, have a better quality and sometimes even come with embedded manuals to help outsiders get what a game is about.
I'm gonna put up a wanted list for the Archive by the end of June since I'm happy for any help you can provide by adding game history files. There are about ten years worth of games ahead, you'll find more info in the
FAQ
. In case you still wanna contribute to the Longplay project please file your history by the middle of June to make it for our final Longplay update due at the end of June. Of course all previous Longplays will continue to be hosted here, there just won't be any new additions after that.
Regards,
Monty
January, 11th 2008
---
After a long timeout we're back again with lots of new longplays. Don't be mistaken, I haven't abandoned this project over the last 3 months. As mentioned on my previous update I have started and been working on our sister project, the C64-Gamevideo-Archive. In the meantime I've been given webspace for this at Archive.org which allows me to offer higher quality videos. My sincere thanks go to Renata Ewing for setting up my subdomain as well as helping me out with technical difficulties. For additional info be sure to check out our C64-Gamevideo-Archive page
here
which also temporarily hosts the first 100 videos in rar packs until Bartman is running out of webspace/traffic. When that happens you'll still be able to download them piece by piece over at Archive.org.
Back again to our current Longplay update. There've been a lot of admissions and since you guys have waited long enough I've put all of them online as well those I've been saving up for dry times. This adds up to one heck of an update which tops all previous ones and I'm taking this as an opportunity to officially announce that I won't play any longplays myself. Due to my collaboration with archive.org the webspace at my disposal is practically unlimited which encourages me to focus on the C64-Gamevideo-Archive. So hopefully what started out as a fan based project will turn into a high quality work of reference of C64 gaming history.
Have fun with this update and a happy new year,
Monty
August, 20th 2007
---
Hiya,
again it's been quite a while since our last update. Admittedly I've taken my time which is due to my work on my other C64 project, the
C64 Gamevideo Archive
, more on that below.
I've decided to update C64-Longplays.de on a non-regular basis. There's no point in keeping such a schedule when there's always massive delays. And since I'm doing this solely for fun I don't like getting stressed out about it.
There's been a lot of good admissions this month and since my harddrive's maxed out I decided to release the largest update ever! That's also the reason why I'm not listing the files here on the news page, just browse the
downloads page
for titles in bold.
Some visitor over at our
guestbook
offered to host our blacklisted longplays on an australian server. Dude, I'm sorry, but I've lost your email adress so I wanna thank you publicly for making this offer. However, since I intend to be on the safe side I'll be offering them with some kind of age verification system instead.
As for our new
C64 Gamevideo Archive
: I originally planned to host an IPTV show where I would review the most important games of a year. Since the whole idea went up in smoke and I did not wanna drop all the stuff I'd already prepared for it I went for it with
said archive
.
Best regards,
Monty
July, 19th 2007
---
This just in,
we've taken down all videos of games that are still 'blacklisted' in Germany. While I consider the longplays of:
Barbarian 1+2
Arnie
Beach Head
Blue Max
Commando
Flying Shark
Forbidden Forest 1+2
Gryzor
Infernal Runner
Raid Over Bungelin Bay
Rambo 2
Robocop
Renegade
Target Renegade
to be a document of computer games history rather than advertisment for the games, the german
law for the protection of the youth
(Jugendschutzgesetz) leaves room for interpretation. To be on the safe side those videos are offline until further notice. Sorry about that, I'm not thrilled of it either but I don't make the laws.
Best regards,
Monty
June 9th, 2007
---
Hiya,
with our usual delay (albeit for a
different reason
) I'm able to present a small but fine update:
Lady Tut
(Dominic Vogt)
Pooyan
(Dominic Vogt)
Rainbow Islands
(Moon)
Terramex
(Reinhard)
Wizball
(Moon)
Thanks go to everyone sending in longplays. I haven't put them all up yet but don't worry, you're not forgotten.
Best regards,
Monty
June 3rd, 2007
---
Hiya,
just popping in to let you know there will be yet another delay this month. I'm still been busy preparing for my appearance tomorrow night on
GameTV
at around 7 p.m! I hope I'll be able to put up the new longplays next week.
Thanks go to Moon again for once more souping up our new design.
Tune in
,
Reinhard "Monty" Klinksiek
May 7th, 2007
---
Hiya, I'm proud to present the very late (even for the likes of me) May update. Over the last month an amazing amount of longplays has been submitted by contributers so I dug a little deeper into my archives. *g*
My thanks this month go to Tayo, Oil, Cybergoth and Moon who also did the new page design you're looking at. I'd never anticipated to do a real homepage since I figured learning to code HTML and stuff would be too much work. *g*
However, Moon suprised me with a completely finished design of such simple code that I'll be able to continue doing the updates myself ;)
And now for the latest longplays:
Airwolf (Reinhard)
Bomb Jack (Reinhard)
Die Hard (Tayo)
Hungry Horace (Dominik Vogt)
Jammin (Dominik Vogt)
Psycho Pigs UXB (Oil & Reinhard)
Rick Dangerous (Reinhard)
Space Harrier (Reinhard)
The Eidolon (Moon)
The Human Race (Reinhard)
Thunder Blade (Reinhard)
Uridium (Cybergoth)
BTW, I'm looking for longplays of Wizardry and Blade Of Blackpoole (1982). In case you're up to the challenge and a little bored please send them in, you know how to reach me (MontyMole2000.at.hotmail.com). And now have fun with those longplays!
Reinhard "Monty" Klinksiek